Homepage > Composition > Music Datasheet
"Waltzing with R"
GENERAL INFORMATION
Title
Waltzing with R
Composer
F.G.J. Absil
Instrum.
Orchestra
Date
January 2021
Duration
3'00
Style
Film music cue
Key
G
Meter
6/4 - 3/4 (Waltz)
Measures
54
Tempo
104-112 BPM
FULL INSTRUMENTATION

Piccolo, Flute 1-2, Oboe 1-2, English Horn, Clarinet in Bb 1-2, Bass Clarinet, Contrabass Clarinet, Bassoon, Contrabassoon;
Horn in F 1-2-3-4, Trumpet in Bb 1-2-3, Trombone 1-2-3, Bass Trombone, Tuba;
Timpani, Celesta, Harp, Tubular Bells, Bass Drum, Piatti, Suspended Cymbal, Triangle;
Violins 1, Violins 2, Violas, Celli, Contrabasses.
NOTES FOR THE PERFORMER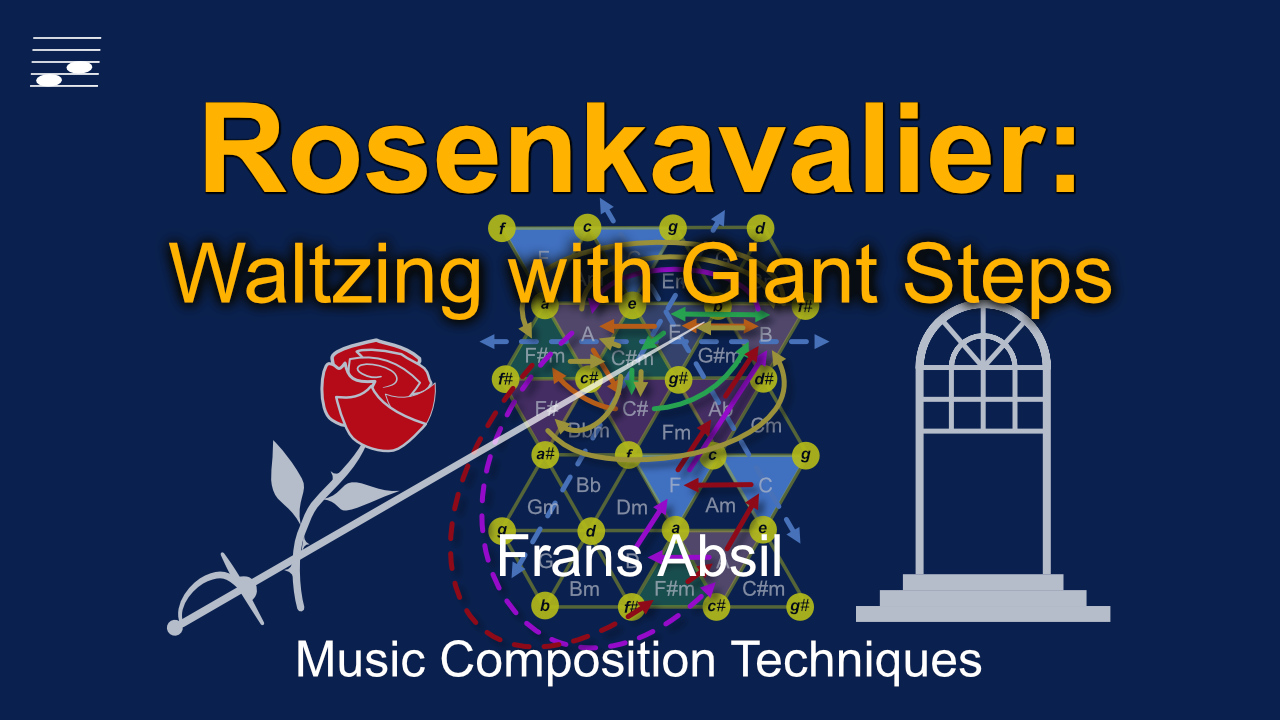 The short composition 'Waltzing with R' is used as an application example in the video tutorial on the combined harmony system usage in the Richard Strauss' Rosenkavalier Waltz (from the opera with the same name).
Like the original this piece has form ABABC, with subdivision A1 (m. 1-10) - B1 (m. 11-14) - A2 (m. 15-22) - B2 (m. 23-38) - C (m. 39-54).
The A sections use diatonic harmony in G major, with a few secondary dominant chords. The B sections are based on the symmetric harmony system (see the Schillinger System of Musical Composition), with equal octave division into either three (B1) or four semitones (B2). The closing section uses both systems.
The main motif, with opening ascending 8th note leap, is used in the Waltz A2 and B2 section. It is a reference to the original Strauss Waltz. Both the Waltz and the symmetric harmony subsection in C are a tutti climax.
The audio rendering is a Cubase Midi mockup, with Aaron Venture Infinite Woodwinds and Brass, Toontracks Orchestral Percussion, and Spitfire Audio BBC Symphony Orchestra strings. Effect and stereo bus plugins are by FabFilter and Valhalla DSP.