Homepage > About
Frans Absil Music - Background and Biography
About
This page will inform you about my background and experience.
Background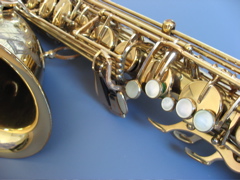 Woodwind and saxophone player. Jazz arranging courses at the Royal Music Conservatory, the Hague, the Netherlands. Metropole Orkest Arrangers Workshop. Self-taught in classical music harmony, counterpoint, analysis and orchestration. Specialist in the Schillinger System of Musical Composition. MSc degree in Aerospace Engineering, PhD in Science.
Experience
Arranger for concert band, jazz big band and studio orchestra. Composer for bands, chamber groups, theatre, commercial and film music. Instructor for saxophone and flute. Big band, theatre music and symphonic wind band conductor.
Author of books and articles on Musical Analysis, Jazz and Popular Music Orchestra Arranging, Rhythm, Counterpoint and Composition Techniques. Musician, arranger and composer interviews. Lecturing and online teaching. Video tutorials on YouTube channel.
Tools and Skills
Music production with Apple MacOS, Windows PC, Logic Pro X, Cubase 11, Native Instruments Komplete, Vienna Symphonic Library, Spitfire Audio, Audio Modeling SWAM and Sample Modeling Instruments, Aaron Venture Infinite Series, Ample Sound Guitars and Basses, Arturia V Collection, EastWest Composer Cloud, In Session Audio, Modartt Pianoteq, Toontrack Superior Drummer, FabFilter Pro, LiquidSonics, Valhalla DSP, Nugen Audio, Hexler TouchOSC, Metasystem Metagrid, Audacity. Scores and parts using the Steinberg Dorico and Makemusic Finale music notation software. Arturia KeyLab 61 Mk2, Akai EWI 5000, Keith McMillen K-Board, Universal Audio Arrow and Focusrite Scarlett 2i2 interface, Dynaudio Acoustics BM6A monitors, Sennheiser HD650 headphones. PDF documents created with the public domain LaTeX computer typesetting tools, document production with Affinity Designer, Photo, Publisher and graphics with Inkscape and Wacom Tablet. Programming experience includes Matlab, HTML, CSS, JavaScript, Perl, Liine Lemur, KSP Scripting, PHP and MySQL.