Homepage > Composition > Music Datasheet
"The Whistledown Wedding Announcement"
GENERAL INFORMATION
Title
The Whistledown Wedding Announcement
Composer
F.G.J. Absil
Instrum.
Studio Orchestra
Date
August 2022
Duration
1'50
Style
Film Music
Key
Various (G-F-Db-Bb)
Meter
4/4
Measures
71
Tempo
159.5 BPM (Lively)
FULL INSTRUMENTATION

Woodwinds: Flute, Oboe, Clarinet in Bb, Bassoon;
Brass: Horn in F 1-2-3, Trumpet 1-2, Trombone 1-2-3, Bass Trombone, Contrabass Tuba;
Percussion: Timpani;
Rhythm: Synthesizer Bass;
Strings (solo): Violin 1, Violin 2, Viola, Cello, Double Bass.
PERFORMANCE NOTES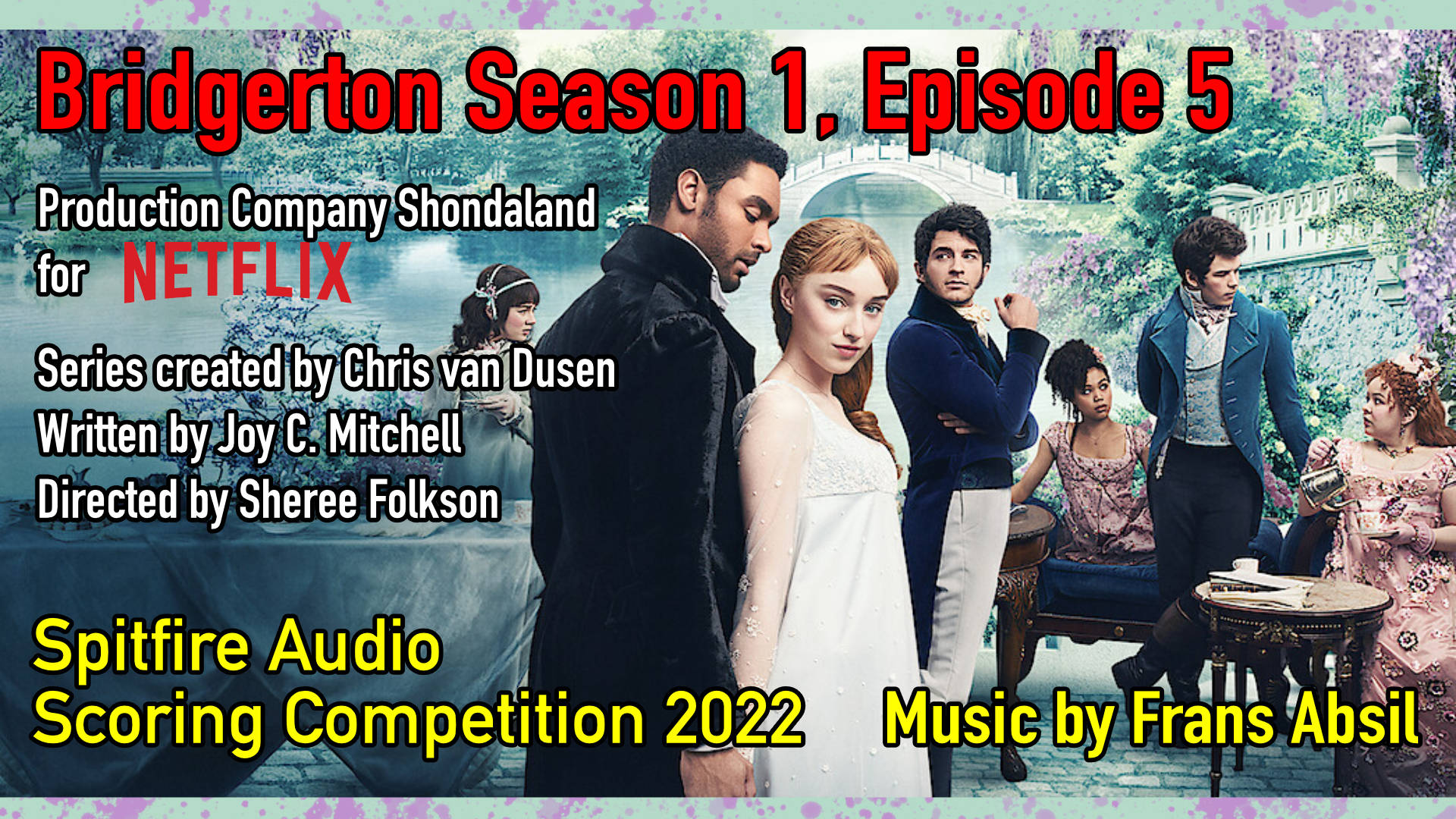 This is the score for the video clip from 'Bridgerton' Season 1, Episode 5, my entry for the Spitfire Audio Scoring Competition 2022.
The instrumentation for this historical-romance series (Netflix 2020) set in Regency era London is a late Baroque, Classical period chamber music ensemble. This consists of a solo and concertante playing clavichord, a wind quintet, a string quintet, and an incidentally playing brass section plus timpani.
The film music is a fixed tempo cue. After breaking down the video cue into hitpoints I entered these in my online Film Music Tempo Calculation Tool. That page finds the best tempo fit of musical beats coinciding with event timing markers in a film music cue. From the results I chose the BPM = 159.5 tempo. Choosing different time units (quarter notes, 8th or 16th notes) creates apparent tempo changes and take care of accelerations and slowing down (relaxation).
The musical idiom respects the scene and mood changes, with a pinch of irony. The clavichord is carrying the ball, with lively playing melodies, Riemannian Transformation chord progressions, Alberti bass patterns, etc. The woodwinds are frequently used to underpin mood changes (major to minor), in imitation phrases. Strings amplify these moods and are the background for solo instruments. Brass play a fanfare to accompany the newspaper wedding announcement and the arrival of the horse carriage.
The audio rendering of the Cubase 11 Midi mockup uses Audio Modeling SWAM woodwinds (with settings that generate antiquated 19th century timbres), Aaron Venture Infinite Series brass, Audio Modeling SWAM solo strings, Pianoteq clavichord, Spitfire Audio BBC Symphony Orchestra timpani, FM8 bass synthesizer from the Native Instruments Komplete Collection. Effect plug-ins are Steinberg stock, FabFilter, LiquidSonics, Valhalla DSP, and Nugen Audio. There is sparse use of delays and reverb, in order to maintain a chamber music feeling (small ensemble in an intimate palace setting).