Homepage > Composition > Music Datasheet
"The Midnight Dance Begins"
GENERAL INFORMATION
Title
The Midnight Dance Begins
Composer
F.G.J. Absil
Instrum.
Studio Orchestra
Date
July 2022
Duration
2'00
Style
Synthesizer and Orchestral Music
Key
Bb - Dm (Riemannian and chromatic harmony)
Meter
4/4 and 3/4
Measures
57
Tempo
112 - 92 BPM (Allegro misterioso)
FULL INSTRUMENTATION

Woodwinds: Piccolo 1-2, Flute, English Horn, Clarinet in Bb, Bass Clarinet, Bassoon, Contrabassoon;
Percussion: Accordion, Glockenspiel, Harpsichord, Bar Chimes, Bass Drum, Triangle;
Keyboards: Synthesizer 1-2, Synthesizer Bass;
Strings: Cello, Double Bass.
PERFORMANCE NOTES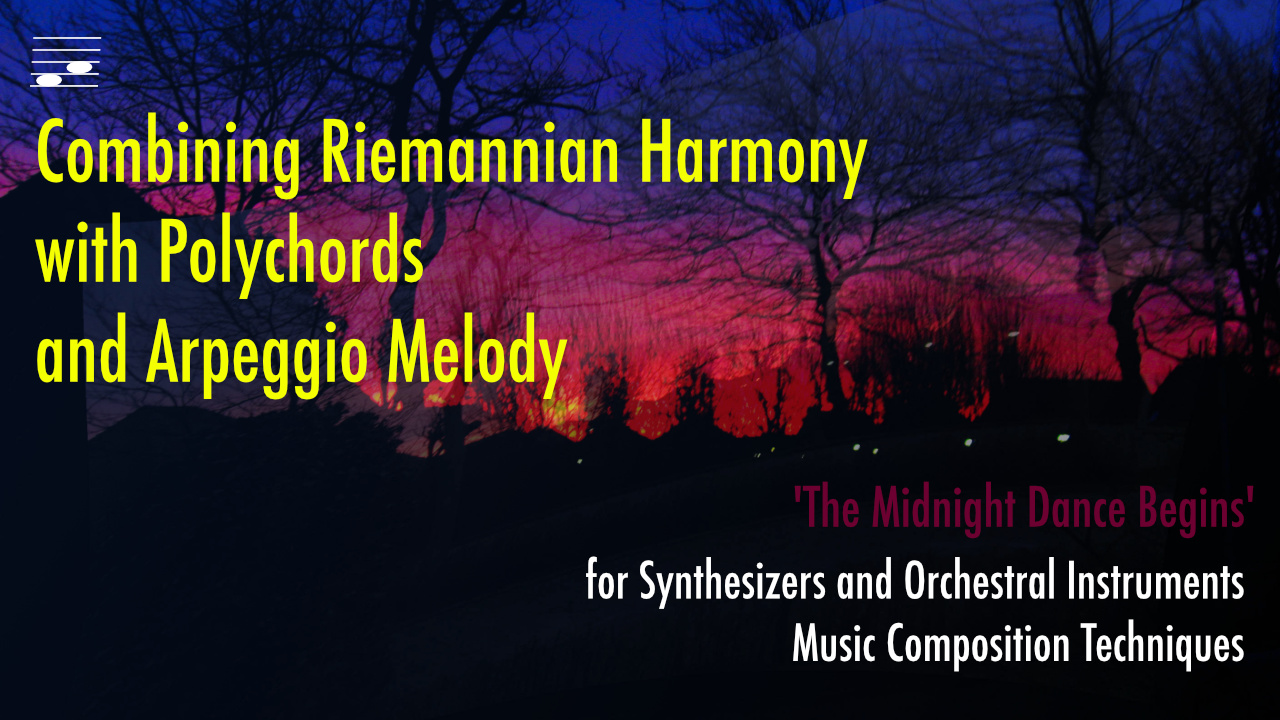 The composition 'The Midnight Dance Begins' for studio orchestra is the example for the corresponding YouTube video tutorial Combining Riemannian Harmony with Polychords and Arpeggio Melody (22:44):
The piece demonstrates the combination of various composition techniques. The starting point is a set of chord progressions, including a Riemannian hexatonic pair. Using a limited set of techniques we create extended harmony with pedal point, or polychords. From these chord structures we derive melody and arpeggio motifs.
The extended harmony techniques include seventh chords (derived from the hexatonic scale), pedal point, (incomplete) polychords, and Schillinger strata harmony.
In the melodic domain we find motifs with imitation, and arpeggio motifs derived from strata harmony layers. An example is the tango melody phrase near the end of the piece.
The audio rendering of the Cubase 11 Midi mockup uses Audio Modeling SWAM solo woodwinds, Spitfire Audio BBC Symphony Orchestra strings, Pianoteq harpsichord and glockenspiel, EastWest accordion, Toontrack orchestral percussion. Synthesizers are from the Native Instruments Komplete and the Arturia V Collection. Effect plug-ins are Steinberg stock, FabFilter, LiquidSonics, Valhalla DSP, and Nugen Audio.