Homepage > Composition > Music Datasheet
"Exploring Stratospheres"
GENERAL INFORMATION
Title
Exploring Stratospheres
Composer
F.G.J. Absil
Instrum.
Orchestra
Date
July 2021
Duration
2'30
Style
Film Music
Key
D - Ab - F (modal)
Meter
3/4 - 6/8 - 4/4
Measures
92
Tempo
92 - 156 - 72 BPM
FULL INSTRUMENTATION

Piccolo, Flute, Oboe, English Horn, Clarinet in Bb, Bass Clarinet, Bassoon 1-2;
Horn in F 1-2-3-4, Trumpet in Bb 1-2-3, Trombone 1-2-3, Tuba;
Timpani, Glockenspiel, Harp, Xylophone, Bass Drum, Crash Cymbal, Toms, Triangle, Woodblock;
Double Bass, Drum Set, Synthesizer
Violins 1, Violins 2, Violas, Celli, Contrabasses.
NOTES FOR THE PERFORMER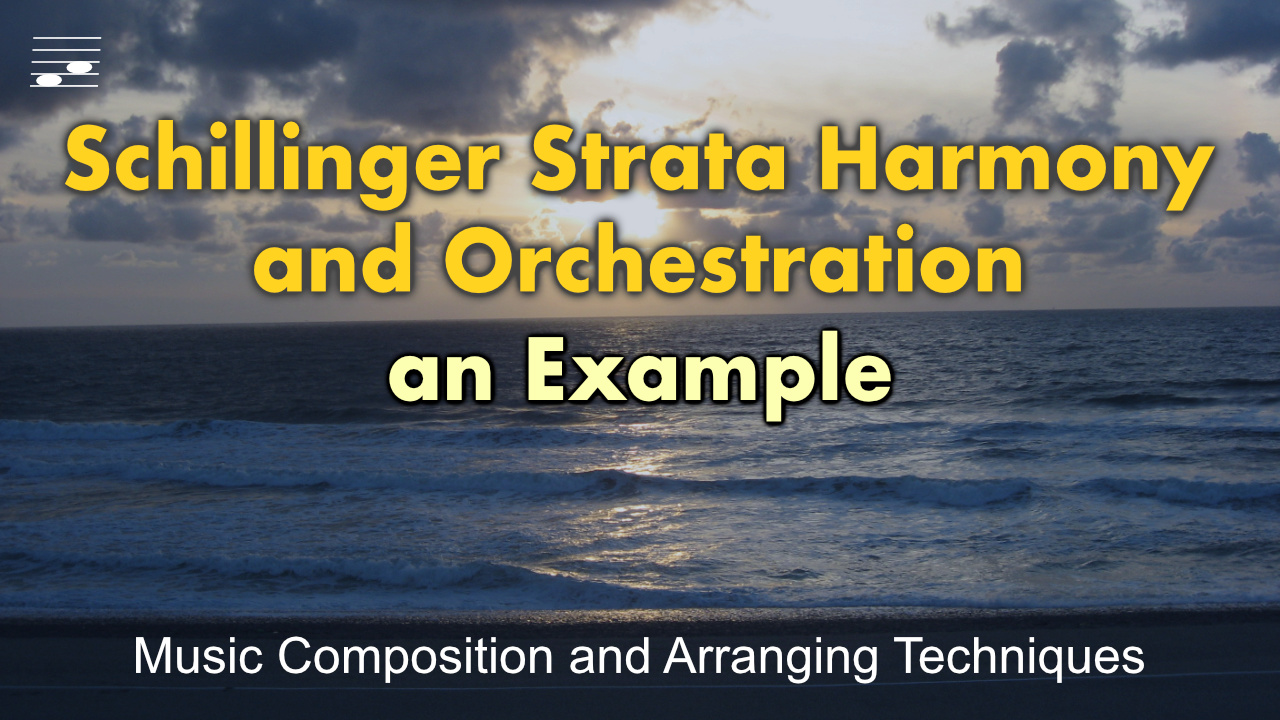 The orchestral composition 'Exploring Stratospheres' is the application example in the video tutorial on Schillinger Strata Harmony and Orchestration.
It has ternary form ABC, with subdivision A (m. 1-27) - B (m. 28-81) - C (m. 82-92).
The A section is a gentle Waltz (92 BPM) using diatonic-symmetric harmony, 3 strata with a total of 8 parts
The B section in an agitato in 6/8 time signature (156 BPM). It is in the symmetric system of harmony, with a single chordd structure (extended dominant chord with polychord voicing), has 4 strata with a total of 11 parts
The C section is a tranquilo slow section (72 BPM) in 4/4 time signature. It is in the modal diatonic system of harmony, F-Dorian, with chords in 4ths, and has 3 strata with a total of 7 parts
The audio rendering is a Cubase Midi mockup, with Aaron Venture Infinite Woodwinds and Brass, Toontracks Orchestral Percussion, Spitfire Audio BBC Symphony Orchestra timpani, Pianoteq Harp and Vienna Symphonic Library Dimension Strings. Effect and stereo bus plugins are by FabFilter and Valhalla DSP.