Homepage > Composition > Music Datasheet
"The Rough Lady Rides Again"
GENERAL INFORMATION
Title
The Rough Lady Rides Again
Composer
F.G.J. Absil
Instrum.
Studio Orchestra
Date
2020
Duration
4'16
Style
Film Music Cue
Key
Atonal
Meter
4/4 - 3/4 - 9/8
Measures
179
Tempo
112 - 120 - 148 - 153 BPM (various)
FULL INSTRUMENTATION

Woodwinds: Piccolo 1-2, Flute 1-2, Alto Flute, Bass Flute, Clarinet in Bb 1-2, Bass Clarinet 1-2, Bassoon 1-2, Contrabassoon;
Brass: Horn in F 1-2-3-4, Trombone 1-2-3, Bass Trombone, Bass Tuba;
Percussion: Timpani, Bass Drum, Clash Cymbals (Piatti), Claves, Suspended Cymbal, Taiko Drum, Tambourine, Woodblocks (1+4 players);
Rhythm Section: Piano, Synthesizer Lead 1, Synthesizer Lead 2, Synthesizer Bass 1, Synthesizer Bass 2, Bass Guitar, Drum Set (sticks);
Strings: 3 Violins, 2 Violas, 2 Celli, 1 Contrabass.
NOTES FOR THE PERFORMER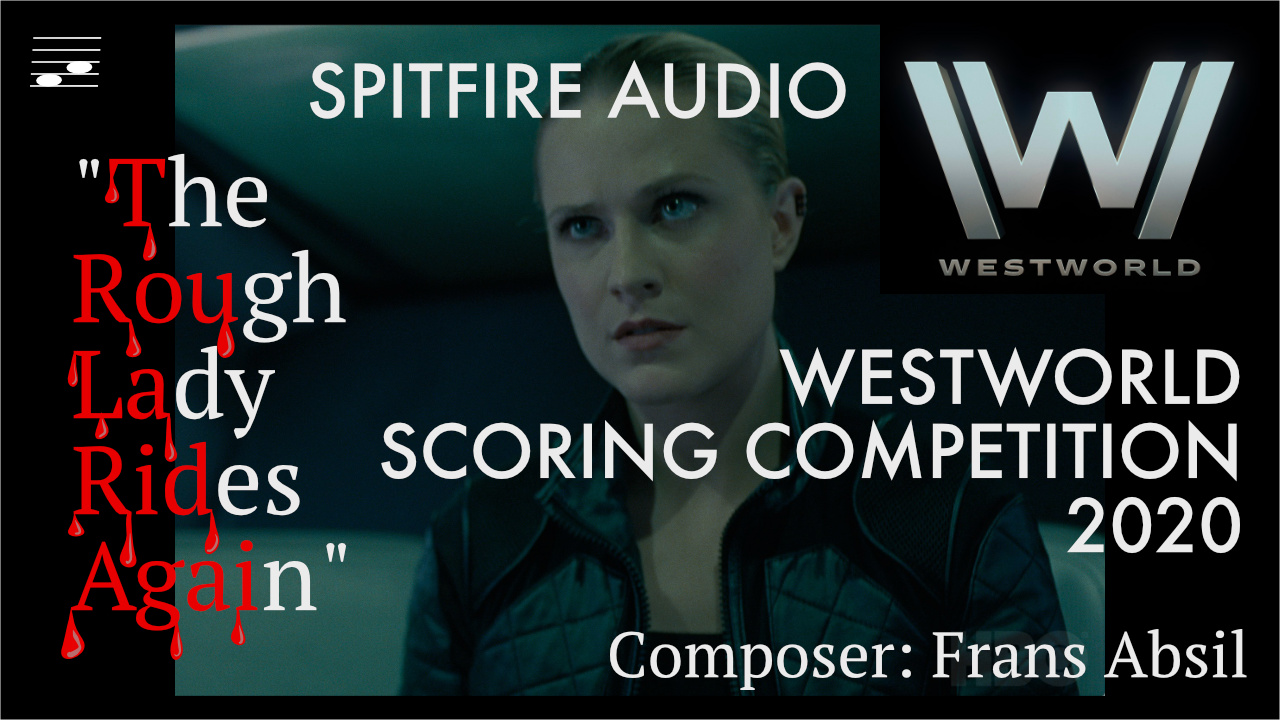 The film music cue 'The Rough Lady Rides Again' is my entry for the Spitfire Audio Westworld Scoring Competition 2020. We were challenged to produce an original score for the car chase scene from Episode 5, HBO Westworld Season 3, with duration 4m16s. The original score is based on synthesizer sounds and Richard Wagner's Walkürenritt. Those who listen through this atonal setting will be rewarded with a closing C major triad.
The new score started with draft paper sketches, then was entered in the Steinberg Cubase 10 DAW software, synchronising the Midi mockup with the video track. The stereo mixdown of the music was exported to the ScreenFlow software and combined with the video, dialog and sound effects track. The end result was published on my YouTube channel on May 23, 2020.
The Cubase mockup project then was exported as Midi file and as MusicXML score. These files were imported into MakeMusic Finale 25 and the Steinberg Dorico 3.5 music notation software. The published version is a condensed score in PDF format.