Homepage > Composition > Music Datasheet
"Two Bars, I Owe You Two Chocolate Bars"
GENERAL INFORMATION
Title
Two Bars, I Owe You Two Chocolate Bars
Composer
F.G.J. Absil
Instrum.
Band and Orchestra
Date
October 2020
Duration
5'55
Style
Lively ambient pop and orchestral
Key
G
Meter
4/4 - 3/4
Measures
207
Tempo
172-84 BPM
FULL INSTRUMENTATION

Acoustic Guitar 1 (classical, nylon strings), Acoustic Guitar 2 (steel strings, played with pick, also chord strumming), Electric Guitar (Fender Stratocaster, amplifier and effects);
Electric Piano, Bass Guitar, Drums (brushes);
Synthesizers (4 players, virtual instruments listed): Synthesizer Lead (monophonic/polyphonic, Arturia V Collection Moog Mini, NI FM8 arpeggiated bells), Polyphonic Synthesizer 1 (pad sounds, arpeggiated chords, NI Absynth pad, NI Absynth sound effects), Polyphonic Synthesizer 2 (NI Massive Pulsating sound, Arturia V Collection Moog Mini arpeggiated chords, NI FM8 pad, Arturia V Collection Prophet 5 string pad, NI Absynth sound effects), Synthesizer Bass (monophonic, NI Absynth, NI Massive);
Piccolo, Flute 1-2, Oboe, English Horn, Bb Clarinet 1-2, Bass Clarinet, Bassoon;
Horn in F 1-2-3-4, Trumpet in Bb 1-2-3, Trombone 1-2-3, Bass Trombone;
Marimba, Harp.
NOTES FOR THE PERFORMER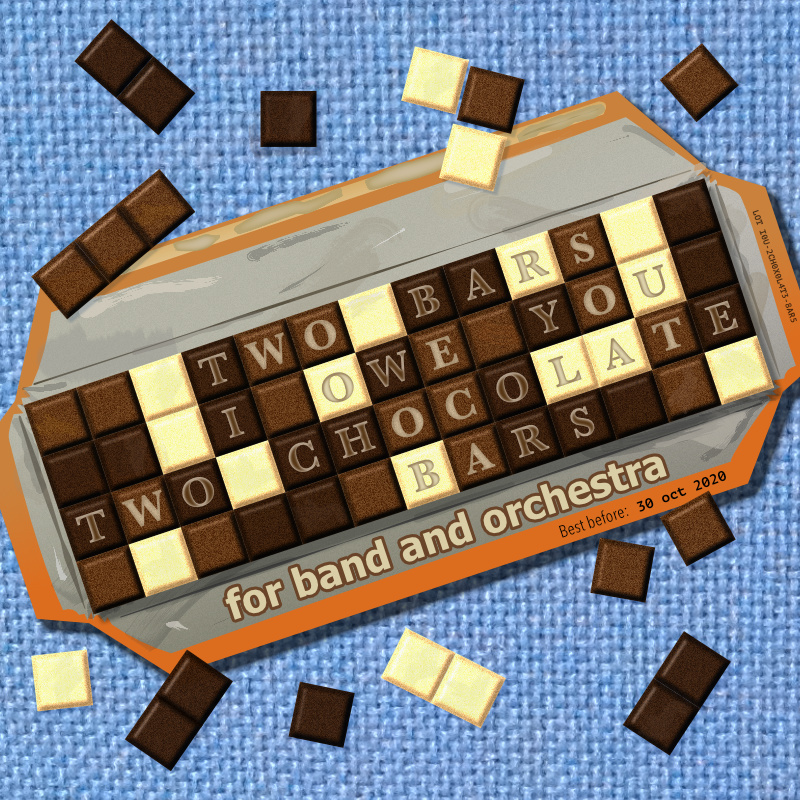 Two Bars, I Owe You Two Chocolate Bars is a piece for band and orchestra, contrasting lively sections with slower ambient textures. Here are its characteristics:
The piece has a bridge form, A (m. 9) - B (m. 41) - C (m. 71) - B (m. 118) - A (m. 155), with intro (m. 1-8) and coda (m. 190-207). The A sections feature guitars, rhythm section and marimba at a lively 170-176 BPM tempo. In the half tempo B sections, the texture is more orchestral, alternating between transitory 4/4 and waltz 3/4 phrases. The central C section picks up speed again and has agitato character, juxtaposing and combining band and orchestra, leading to several climaxes.
The main theme, an 8-measure phrase with dominating stepwise motion, is first presented in the A section m. 9-16. Bridge sections with main theme snippets in the bass are juxtaposed between consecutive statements. The main theme is used in rhythmic augmentation in (half-tempo) transition sections m. 41-48, and m. 118-125. Some of its subphrases are also used in the waltz sections and retransition m. 151-154.
The agitato middle section C presents two contrasting themes, a descending riff pattern with many leaps (see marimba m. 74), and another, more stepwise motif in upper parts (e.g., guitar 1 in m. 86). These themes are handled as a kind of development. They also return in combination with the main theme in the final A section.
The harmony combines regular chord changes with pantriadic harmony and polychords (two stacked triads or 7th chords).
For the audio rendering of the Midi mockup I used the synthesizer virtual instruments listed in the instrumentation. Guitars are from the Ample Sound collection. In the rhythm section we find the Arturia V Collection Stage-73 piano, the Scarbee MM Bass guitar and the VSL Jazz Drums. The marimba is from the Spitfire Audio Symphonic library, the harp is the VSL orchestral version in the Kontakt Factory Library. All woodwinds are Audio Modeling SWAM instruments, the brass is from Sample Modeling. I used the Cubase 10 DAW, with third party plugins from Native Instruments, FabFilter and Valhalla DSP.