Homepage > Composition > Music Datasheet
"Trevor, the Triclops Trooper"
GENERAL INFORMATION
Title
Trevor, the Triclops Trooper
Composer
F.G.J. Absil
Instrum.
Studio Orchestra
Date
July 2023
Duration
2'45
Style
Studio Orchestra
Key
atonal (polychords)
Meter
3/4
Measures
130
Tempo
132 - 180 BPM
FULL INSTRUMENTATION

Woodwinds: Piccolo, Flute 1-2-3 (Flute 3 doubling on Alto Flute), Oboe 1-2, English Horn, Clarinet in Bb 1-2-3 (Clarinet 3 doubling on Bass Clarinet), Bassoon 1-2, Contrabassoon;
Brass: Horn in F 1-2-3-4, Trumpet 1-2-3, Trombone 1-2-3, Bass Trombone, Tuba;
Percussion: Timpani, Bar Chimes, Bass Drum, Bongos, Clash Cymbal, Snare Drum, Suspended Cymbal, Tambourine, Toms, Triangle (8 players);
Keyboards: Celesta, Harp, Xylophone;
Strings: Violins 1, Violins 2, Violas, Cellos, Double Basses.
PERFORMANCE NOTES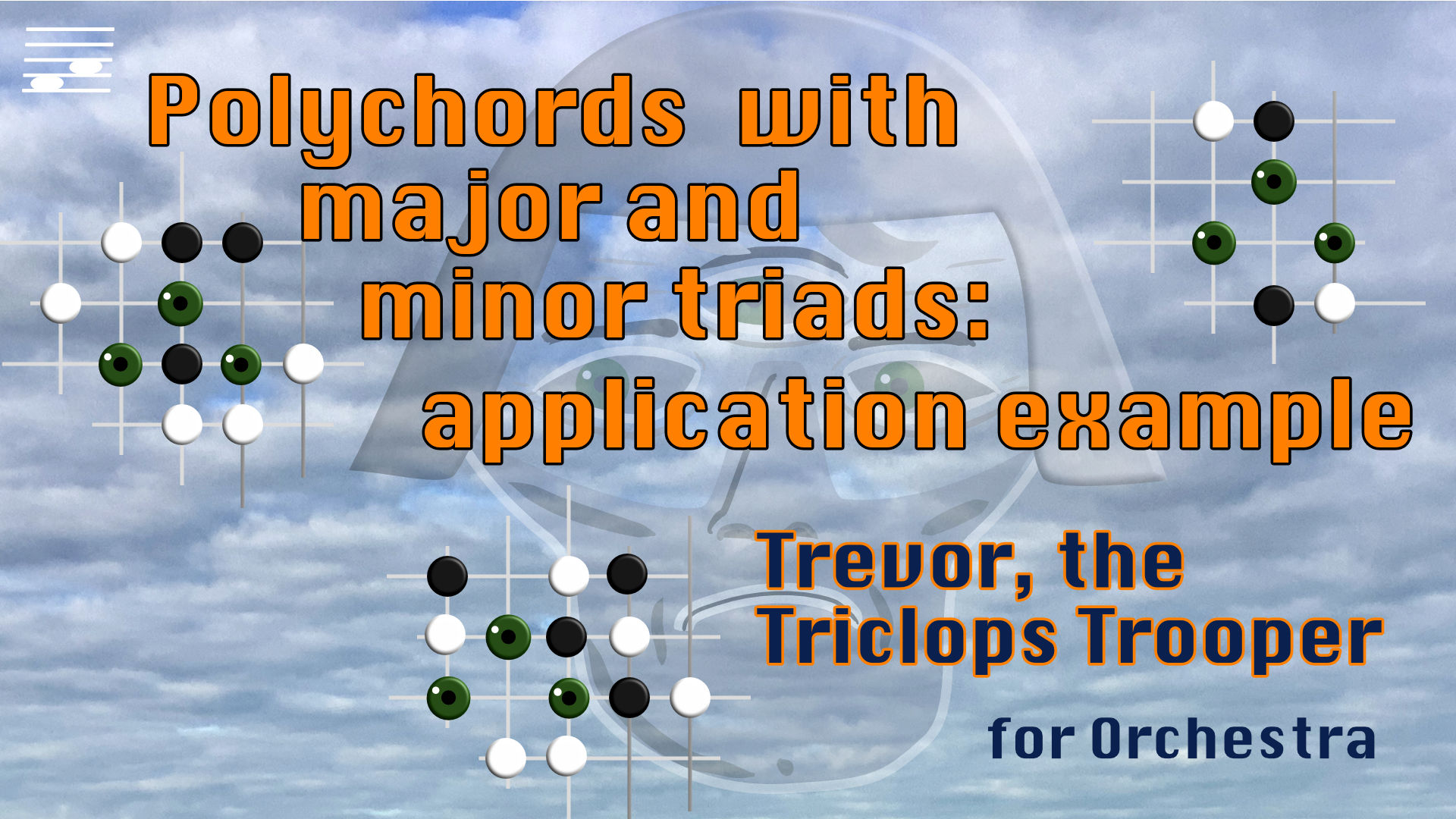 The video tutorial on Polychords with Major and Minor Triads uses the composition 'Trevor, the Triclops Trooper' as application example. YouTube link to the video tutorial: Polychords with Major and Minor Triads: Application Example (35:22). Here are some details about the composition and the MIDI mockup production:
The piece has ternary form with quasi-sonata character (exposition mm. 1-45, development mm. 46-111, recapitulation mm. 112-130) and is subdivided into 15 sections.
The composition uses two building blocks. The first is a a set of major triads SM with symmetrically distributed roots (SMR4i), e.g., B-G-Eb. Alternatively, minor triads Sm are used, e.g., F#m-Dm-Bbm.
The other building block is the hexatonic triad pair (HTP), a major triad followed by a minor triad a major third (four semitones) below, e.g., C-G#m. The coupling of two HTP's yields C-G#m-E-Cm.
These building blocks are stacked as polychords, i.e., two-layer hexachords S(6p) = S(3p)|S(3p). In the chord continuities the stacking order uses various combinations: HTP|SMR4i, SMR4i|HTP, SMR4i|SmR4i.
The continuities may be modified: use single layer S(3p) only, apply bass / top part pedal point, chromatically ascending bass, outer part contrary motion. A main theme melody is derived from the HTP continuity.
The audio rendering of the Cubase 12 / Vienna Ensemble Pro 7 Midi mockup uses Aaron Venture Infinite Woodwinds and Brass libraries, Sample Modeling Ensemble Strings. Percussion libraries are the Spitfire Audio BBC Symphony Orchestra and the Toontrack Orchestral Percussion. Effect plug-ins are Steinberg stock, FabFilter, LiquidSonics, Valhalla DSP, and Nugen Audio.