Homepage > Composition > Music Datasheet
"Tetrachordeal"
GENERAL INFORMATION
Title
Tetrachordeal
Composer
F.G.J. Absil
Instrum.
Studio Orchestra
Date
January 2022
Duration
2'00
Style
Orchestral Music
Key
Cm - Atonal
Meter
6/8
Measures
52
Tempo
84 BPM
FULL INSTRUMENTATION

Woodwinds: Piccolo, Flute 1-2, Oboe 1-2, Clarinet in Bb 1-2, Bass Clarinet, Bassoon 1-2, Contrabassoon;
Brass: Horn in F 1-2-3, Trumpet in Bb 1-2-3, Trombone 1-2-3, Bass Trombone, Contrabass Tuba;
Percussion: Timpani, Harp, Marimba, Bar Chimes, Bass Drum, Piatti, Suspended Cymbal, Tambourine, Triangle;
Strings: Violin 1, Violin 2, Viola, Cello, Double Bass.
NOTES FOR THE PERFORMER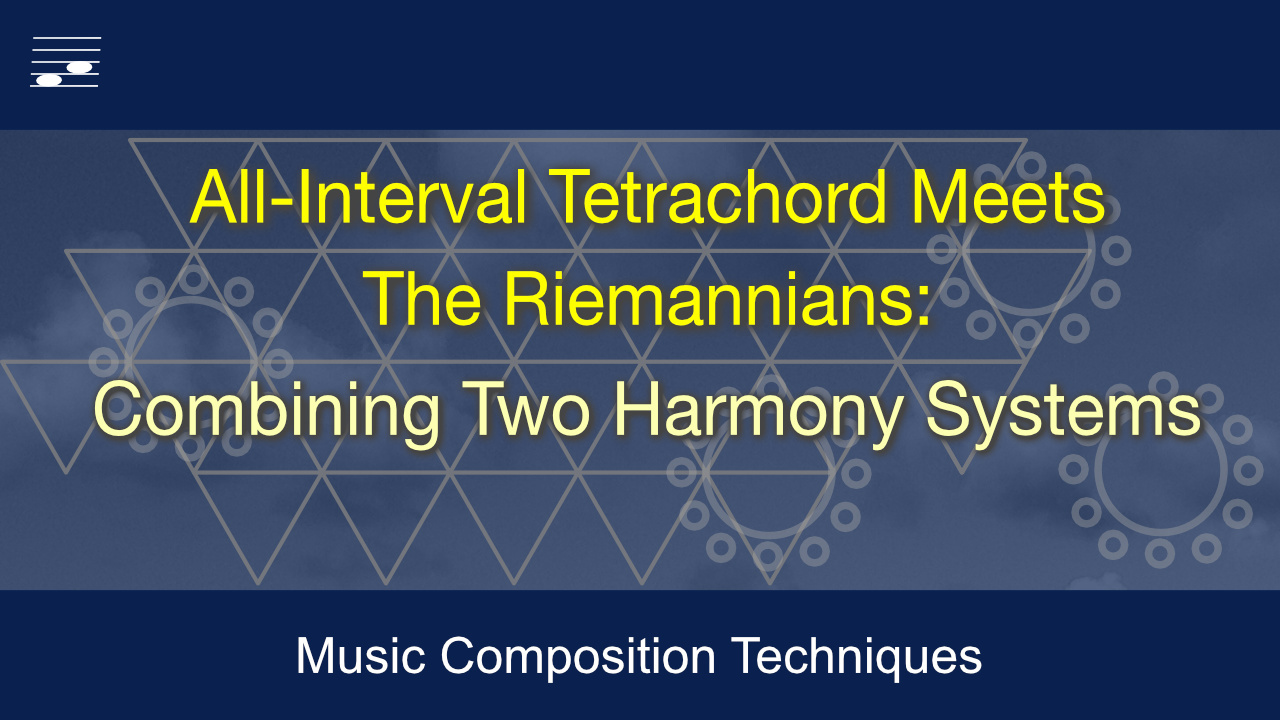 The orchestral composition Tetrachordeal is used as an example for the YouTube video tutorial on the combination of tonal harmony, a triadic chord progression with Riemannian transformations, with atonal harmony using Pitch-Class Sets (PCS). Here are the details:
The piece is subdivided into 8 sections, juxtaposing Riemannian and PCS harmony.
The Riemannian chord progression is centered around the key C minor: Cm-Abm-G-E-Cm, with two chromatic mediant triad pairs, a SLIDE transformation and a pair of hexatonic, triple root, symmetric scale triads.
The PCS is based on the all-interval tetrachord 4-Z15 and its Z-related companion 4-Z29. The harmony uses various PCS properties such as the original, transposed and inverted form, common notes for different forms, and the PCS 6-22 and 6-Z49 hexachord supersets in a least dissonant voicing.
The audio rendering of the Cubase 11 Midi mockup uses Audio Modeling SWAM woodwinds, Sample Modeling brass and ensemble strings, Aaron Venture Infinite Series woodwinds and brass, Spitfire Audio Symphonic timpani, harp and marimba, Spitfire Audio BBC Symphony Orchestra strings, Toontrack Superior Drummmer orchestral percussion. Effect plug-ins are Steinberg stock, FabFilter, LiquidSonics, Valhalla DSP, and Nugen Audio.