Homepage > Compositions > Music Datasheet
"The Good Woman of Setzuan"
GENERAL INFORMATION
Title
Theatre Music for "De goede mens van Sezuan" (in Dutch)
Composer
F.G.J. Absil
Instrum.
Singers and theatre music band
Date
July - September 2011
Duration
26'30 (actual live performance: 28'50)
Style
Songs and instrumental cues
Key
Various
Meter
Various (3/4, 4/4, 9/8)
Measures
830
Tempo
Various
Grade
n.a.
INSTRUMENTATION AND SOUND DETAILS

SINGERS:
Solo vocals (Alto, Tenor, Baritone);
Mixed choir (SATB).
THEATRE BAND (6 MUSICIANS):
Piccolo / Flute 1, Flute 2, Clarinet in Bb 1, Clarinet in Bb 2;
Alto / Tenor / Baritone Saxophone;
Baritone;
Percussion (Bar Chimes, Bass Drum, Hand Drum, Music Box, Tambourine, Tom-tom, Triangle, Woodblock).
NOTES FOR THE PERFORMER
The theatre music for the play "Der gute Mensch von Sezuan" (The Good Woman of Setzuan) by Bertolt Brecht (written in 1941-1943) contains a set of six songs (original music by Paul Dessau, here with new musical compositions) and a set of chamber music background cues.
---
Six Songs for Sezuan (Total dur. 13'50)
The original lyrics in German have been translated into Dutch by Aus Greidanus (Toneelgroep De Appel) and edited by writer and director Janna de Lathouder.
Lied van de rook (1'58). A mixed choir complains the current living conditions, going up into smoke (Scene 2C). Folk style waltz (Bb major, 160 BPM, 107 m).
Lied van de waterverkoper in de regen (2'03). Wang, selling water in the rain (Scene 5), has a disappointing turnover. Alto voice, with an ensemble of tuned water-filled bottles. Chinese waltz with melody based on the D minor pentatonic scale (D Dorian mode, 136 BPM, 94 m).
Lied van de weerloosheid (2'56). Shen Te, ageing prostitute and the leading character (the good woman from the title), feels defenceless and challenges the gods for not intervening in human misery (Scene 8). Spoken lyrics over a whole-tone background and a sad G minor melody, interspersed with pentatonic phrases (G minor, 88 BPM, 62 m).
Lied van St. Juttemis (2'15). Sun, jobless aircraft pilot, predicts a better world arriving on St. Never-Day (Scene 11). Bitonal mockery waltz in F major (Lively Waltz, 176 BPM, 110 m).
Lied van de acht olifanten (2'46). Sun, promoted to manager in Shen Te's tobacco factory, sings the parable of "The Eight Elephants" (Scene 13). Lively march in F major with tutti chorus in D major (124 BPM, 52 m).
Lied over het verdwijnen van de goden (1'50). The three goddesses are leaving Sezuan after 'finishing the job' (Scene 15). Three self-confident alto voices sing a quasi-baroque chorale in 9/8 meter (F major, 92 BPM, 56 m).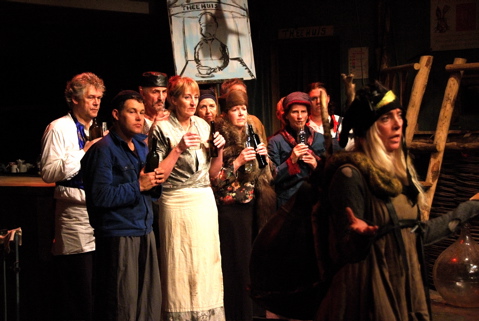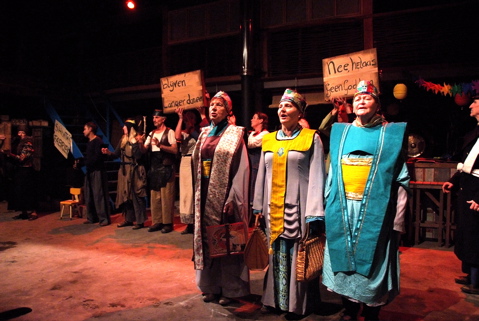 ---
Theatre Music for Sezuan (Total dur. 12'40)
This set of chamber music cues sets the mood or fills the transition from one scene to the next.
Prelude for Sezuan (1'39). The full ensemble plays an intrada (Scene 1) in 4/4 meter with a pentatonic march flavor and using fragments from the Shen Te Theme; i.e., the main theme, that will return in many disguises (F major, 120 BPM, 47 m).
Building the Shop (1'09). Shen Te, after receiving a reward from the gods, opens her tobacco shop (Scene 1-2). The Shen Te Theme is presented in full for the first time and through imitation and increasing intensity illustrates the starting of her small business (Andante, 80 BPM, 23 m).
Tension and Fighting (2'03). Debtors approach Shen Te for money, leading to aggression (Scene 3), and near the end of the play there is a fight in the courtroom (Scene 14A). The tones in the Shen Te Theme form the atonal pitch class set 6-Z25, the basis for this suspense and battle music, full of dynamic changes, dissonance and forceful accents, and feet stamping on the floor (Andante 92 BPM - Allegro 120 BPM, 55 m).
Shen Te's Cousin (1'09). Shen Te dresses as her alter ego, cousin Shui Ta, who has a strong personality and will act and solve Shen Te's problems (Scene 3-4). Melodic inversion of the Shen Te Theme, imitations and a pompous introduction of the male character (Andante 80 BPM - Allegro 120 BPM, 26 m).
Shen Te's Romance (1'42). Shen Te, in dialogue with ambitious and unemployed aircraft pilot Sun, experiences romantic feelings (Scene 5). This is a gentle musical background with diatonic harmonies, the main theme, and references to bird song. A tutti climax closes this cue (Andante tranquilo, 80 BPM, 34 m).
Park Scene (1'39). Shen Te, in love, walking in the park (Scene 7). Similar to the previous piece, but now with more explicit bird calls. Low instruments in a semitone interval imitate the passing of an aircraft (Andante, 80 BPM, 33 m).
Dressing as Bride (1'03). Shen Te prepares for her wedding and dresses as bride (Scene 10). Over parallel chords in fourths the main theme is juxtaposed with fragments from Mendelssohn's Wedding March theme (Andante, 80 BPM, 21 m).
Wedding Dance (1'32). The wedding party is suffering from Shui Ta's absence and therefore never takes off (Scene 11). A dance in Austrian Ländler style with alternating 3/4 and 2/4 meter, bitonal harmonies and more references to the Mendelssohn Wedding March theme (156 BPM, 79 m).
Shen Te's Child (0'24). Shen Te introduces her newborn son to the world (Scene 12). A music box presents a brief diatonic version of the main theme, as a sort of nursery rhyme in 3/4 meter (E Phrygian mode, Allegro, 112 BPM, 15 m).
Wang in the Rain (0'18). The dialogue contains a reference to Wang's unsuccessful water sales (Scene 14A). This very brief music presents the pentatonic lead melody and the tuned water bottles pattern (Waltz, 132 BPM, 13 m).
Video trailer on YouTube:
See the video trailer of 'De goede mens van Sezuan' by theatre company Spot'70 Warmenhuizen on YouTube >>
Concert performance:
This set of songs and chamber music pieces for the play "De goede mens van Sezuan" has been commissioned by theatre company Spot'70 Warmenhuizen for their 2012 season (under the direction of Janna de Lathouder). The actors sing the vocal lines and play percussion. A group of amateur musicians performs the music.
All thirteen performances of 'De goede mens van Sezuan' in January and February 2012 yielded a full house. Visit the Spot'70 Website for more information: www.spot'70.nl >>