Homepage > Composition > Music Datasheet
"Route l'amour perdu"
GENERAL INFORMATION
Title
Route l'amour perdu
Composer
F.G.J. Absil
Instrum.
Big Band
Date
October 2019
Duration
6'45
Style
Contemporary Jazz (feature for piano, trombone and trumpet)
Key
Fm - F
Meter
4/4 - 3/4
Measures
137
Tempo
74-82 BPM
FULL INSTRUMENTATION

Alto Saxophone 1-2 (doubling on Flute), Tenor Saxophone 1-2 (doubling on Clarinet in Bb), Baritone Saxophone (doubling on Bass Clarinet);
Trumpet 1-2-3-4 (open, bucket and cup mute), Trombone 1-2-3 (idem), Bass Trombone (idem);
Jazz Guitar, Piano (solo feature, doubling on lead synthesizer), Double Bass, Drums (sticks).
NOTES FOR THE PERFORMER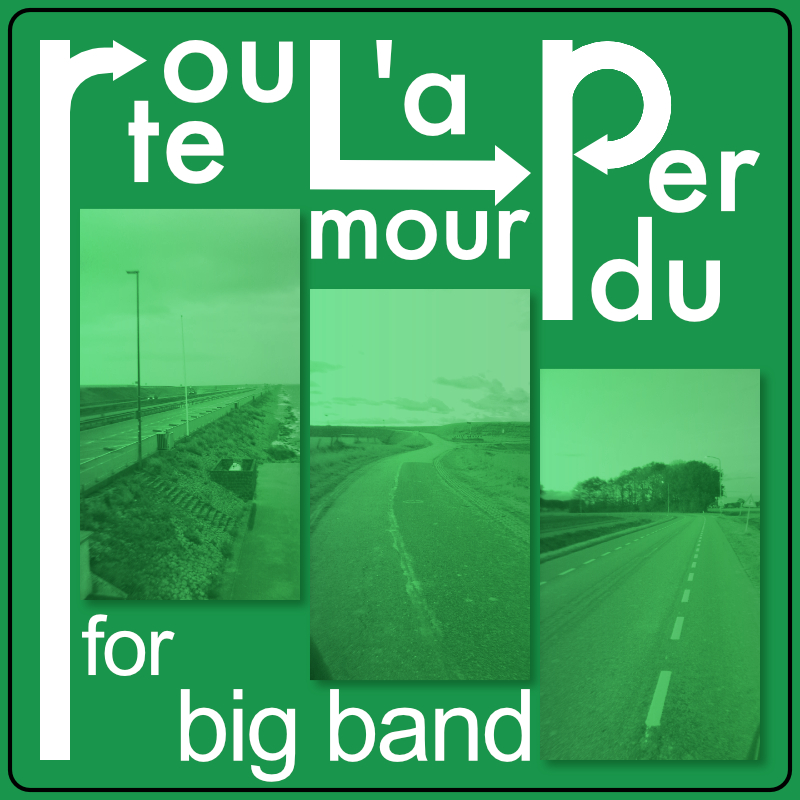 Route l'amour perdu is a moderate tempo piece for big band in contemporary jazz style (straight 8ths). This composition has the following features:
Saxophone section players double on woodwinds (2 flutes, 2 clarinets in Bb, bass clarinet).
The main theme in the key of F minor, with many cluster voicings, is presented first in a statement by solo piano (m. 5-12), then repeated by the full band with brass in bucket mutes (m. 3-20), and returns at the end (m. 125-137).
Transitory sections that are full of imitation in all sections. These include the many sections in 3/4 meter (m. 21-28, 65-72, 85-92, and 117-124), and the development section (m. 29-56).
Bitonal and polychord harmony sections. These include the transition (m. 93-100) and the tutti sections in the key F major, the first presenting a combination of woodwinds and trombones (m. 101-108), followed by prominent open brass phrase (m. 109-116).
Two ad lib solos, for Trombone 1 (m. 57-64) and piano (m. 77-84) and a written-out 2nd trumpet solo (m. 101-108). The score contains template solos (as played in the audio demo version).
The keyboard player changes between piano and lead (monophonic) synthesizer, at one point using split hands (m. 31-34).